Welcome to the Winter 2018  Issue of Heart Beat! This issue has us starting our 5th year of publication. In four short years we have grown from a meager 48 pages to 100 pages for the last 5 issues. Heart Beat has also started our own webcast of the music of the artists we review in the magazine.
HEART BEAT RADIO
The second show of Heart Beat Radio will be up on the web in December. If you will look at the top of the side bar on this page you will see a widget that says "Heart Beat Radio." Just click on it and enjoy excepts from the CDs that are reviewed in this issue. Join your host, Beth Williams, for over 40 minutes of the best Hill Country singer/songwriters. This edition of the show will feature Tom Prasada-Rao, B. Stering, James Keith Asbury and The Scones. You can access all of the shows from our archive page.
You won't find a better mix of the most up and coming Texas artists on the web. Just minimize your browser and you can go about your day and stay tuned in or click here for a downloadable MP3. A big shout out and thanks to all the musical contributors for letting us use their CD cuts. Heart Beat Radio is also a great sponsorship opportunity for a business looking to reach and grow a web savvy audience. Call Greg today (830) 746-8041 for more details.
INTERNATIONAL VISITORS
When we were checking our web site logs recently, we found a number of visitors dropping by from other countries – most notably France, Germany, Norway, Greece and Spain. To accommodate our foreign visitors we have a little translation widget at the top of the page that will translate the site into dozens of languages. So bienvenidos, yassou, bonjour and zdrastvooyte to one and all!
Anyone in the business will tell you that it can be a long hard struggle to keep afloat in the free magazine business. We have been fortunate to have great advertisers, some of whom have been with us since the first issue. We also couldn't have made it this far without a talented and dedicated team of some of the Hill Country's best writers.
We begin distributing our Winter issue the first week of December and it takes about a week to get them placed all over the Hill Country. If you find a distribution location that has run out of magazines, please give us a call (830) 746-8041 and we will be happy to restock you. Heart Beat literally flies off the shelves.
Don't forget to sign up for our subscriber list and stay up to date on events and articles that you may not find in the print edition. Stay in the loop 24/7/365! We have also updated the Android app that gives you news updates, advertiser specials and advance notices on the best of Texas music. Download the app for any Android portable device. We are very serious about using technology to better server our readership and community. Take a look at our competitors web sites and you will see how seriously we take rolling out the latest tech to bring you a more immersive experience. Hey while your at it – drop by Facebook and shoot us a like.
If you would like to promote your venue or event, we will give you a free plug the week of the event if you let us know its coming up. First come, first serve – just email events@texasheartbeat.com. We also have lots of other affordable options for web promotions should you want to start your event promotion earlier.
You, as a reader, can help Heart Beat by letting our great advertisers know that you heard about their products and services through Heart Beat. Our advertisers support the magazine and we only ask that our readers support them. So just walk in and say "Hey! I saw you in Heart Beat!" and make our day. Hey! Buy something and make our advertiser's day too.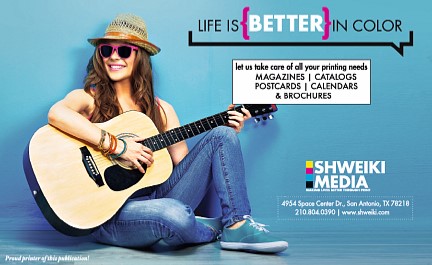 © 2013-2018 The Heart Beat of the Texas Hill Country. All Rights Reserved. Legal Stuff.





.