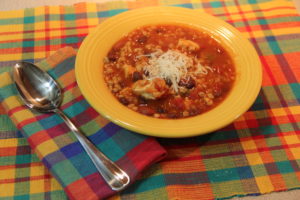 As they are passed among family and friends, the sharing of recipes is a treasured tradition. It is easy today to go on the internet to find a recipe and read its reviews, but there is something special about pulling out that recipe with the name on it of who gave it to you. Several years ago I compiled my personal family favorites and put them together in my own cookbook. I then gave copies to my kids…leaving them many blank pages to add their own collected recipes. And of course I am still adding to mine! It is my pleasure to share some of my favorites with you. Both of these recipes are from my sister-in-law Mary Kay.
Chicken Barley Chili
1cup finely chopped onion
1 clove garlic minced
1½ cup water
2—16 oz cans diced tomatoes
15 oz can black beans
15 oz can kidney beans
15 oz can tomato sauce
2 cups chicken broth
4 oz can green chiles
¾ cup medium barley
1 Tbsp chili powder
½ tsp ground cumin
2 cups chopped cooked chicken (or leftover turkey!)
Simmer first 12 ingredients for 10 minutes then add the chicken and simmer 10 more minutes.
A Quick & Easy Fruit Salad
Great for your holiday table (any "Red" holiday such as Christmas, Valentine's day, or any patriotic one), or something quick to take to a potluck dinner– It is a little pricey but looks pretty—especially in a clear glass bowl and it always gets rave reviews.
1 can cherry pie filling (the secret ingredient!)
1 can (or 2) 11 oz drained mandarin oranges
1 can 20 oz drained pineapple chunks
Sliced bananas 1 or 2
Throw in a few pecans if desired. Add bananas right before serving. Can't get much easier than that!
After 32 years in the military, well my husband was in the military and the kids and I tagged along, I have many recipes from military friends—this being one of them. This one I have made many times over the years…it is called…Julie's Polish Sausage…
Julie's Polish Sausage
1 cup tomato paste
½ cup catsup
1 can beer
½ small onion chopped
2 cloves garlic
3 lbs sausage sliced into nickels
Put all ingredients in the crock pot and cook 3-4 hours on low or speed it up on high. A great appetizer to take to a holiday party! Just grab the crock pot and go!