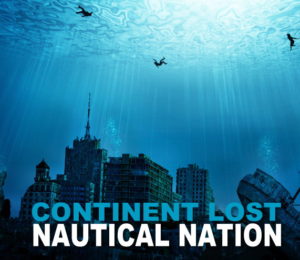 "Continent Lost"
Nautical Nation
Produced by Nautical Nation
Review by Jack Armstrong
This 4-song EP release from Austin band Nautical Nation (formerly Cougar Bait) that showcases both the performance and writing ability of this young gang of turks. Each song on the CD displays a different aspect of the band's direction. "Jenny," the first cut is main stream guitar rock reminiscent of some of back beat rock of the 80s. The CD has an alternative ring to it and lead singer Jake Asbury delivers a journeyman performances on all the tunes.
"Outlaw" kicks off with a very cool guitar solo from Max Watson, lead guitarist and charges uphill from there. "Dreamboat" kicks off as an acoustic ballad then kicks it up a couple notches into a mainstream rock ballad. "Continent Lost," the title track, is a strong rock ballad with a sinister butt-kicking bottom delivered by Danny Thomas on bass and Jordan Widener on drums.
Nautical Nation created this EP from winning the Austin Battle of the Bands, which considering the amount in talent in Austin is no easy feat. Keep your ears and eyes out for this breakout band.